Home
CRSC Christmas Regatta
3rd-4th December 2016

Click here for results (Thanks Greg)
Click here for photos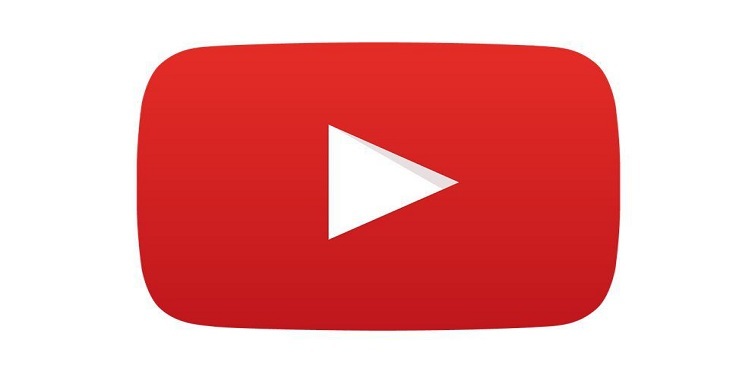 (Thanks Will)

A couple of nice video clips taken by Neale Carter from his Paper Tiger ...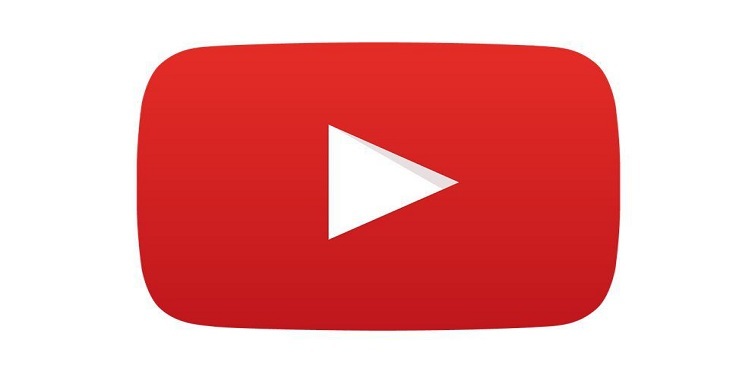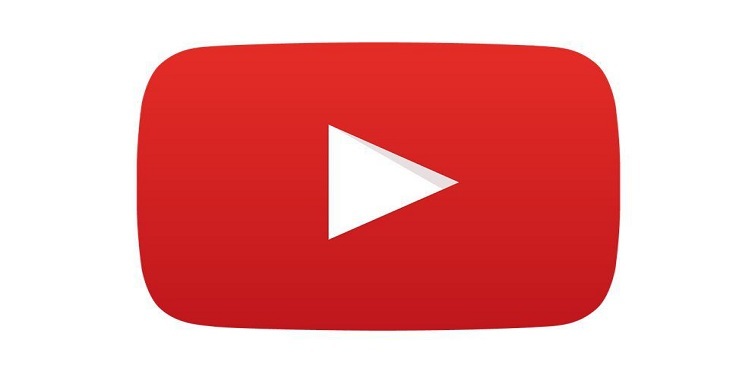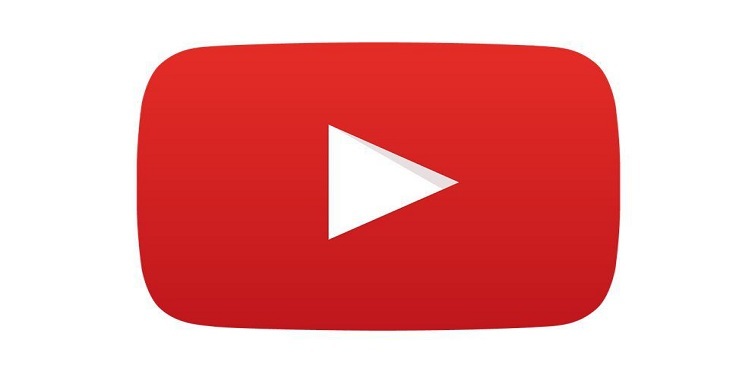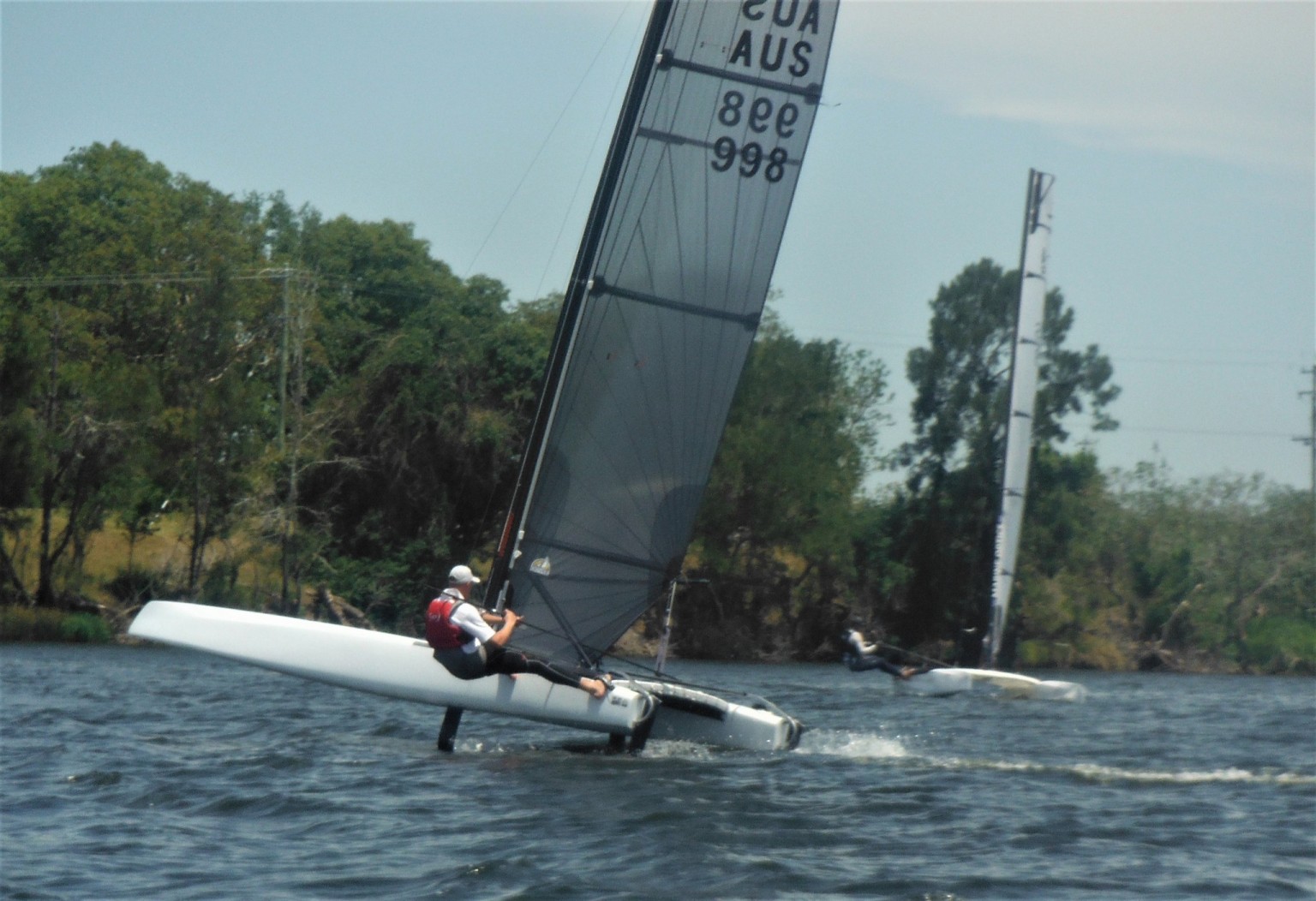 ____________________
Cats Dominate in Challenging Breeze
Club Pointscore Heat #6 - 26th November 2016

Photos Videos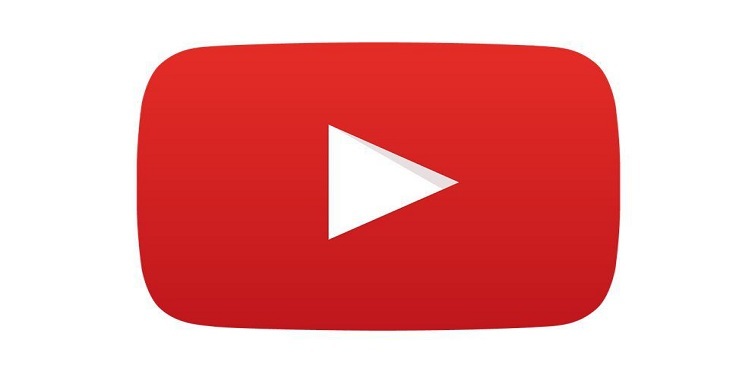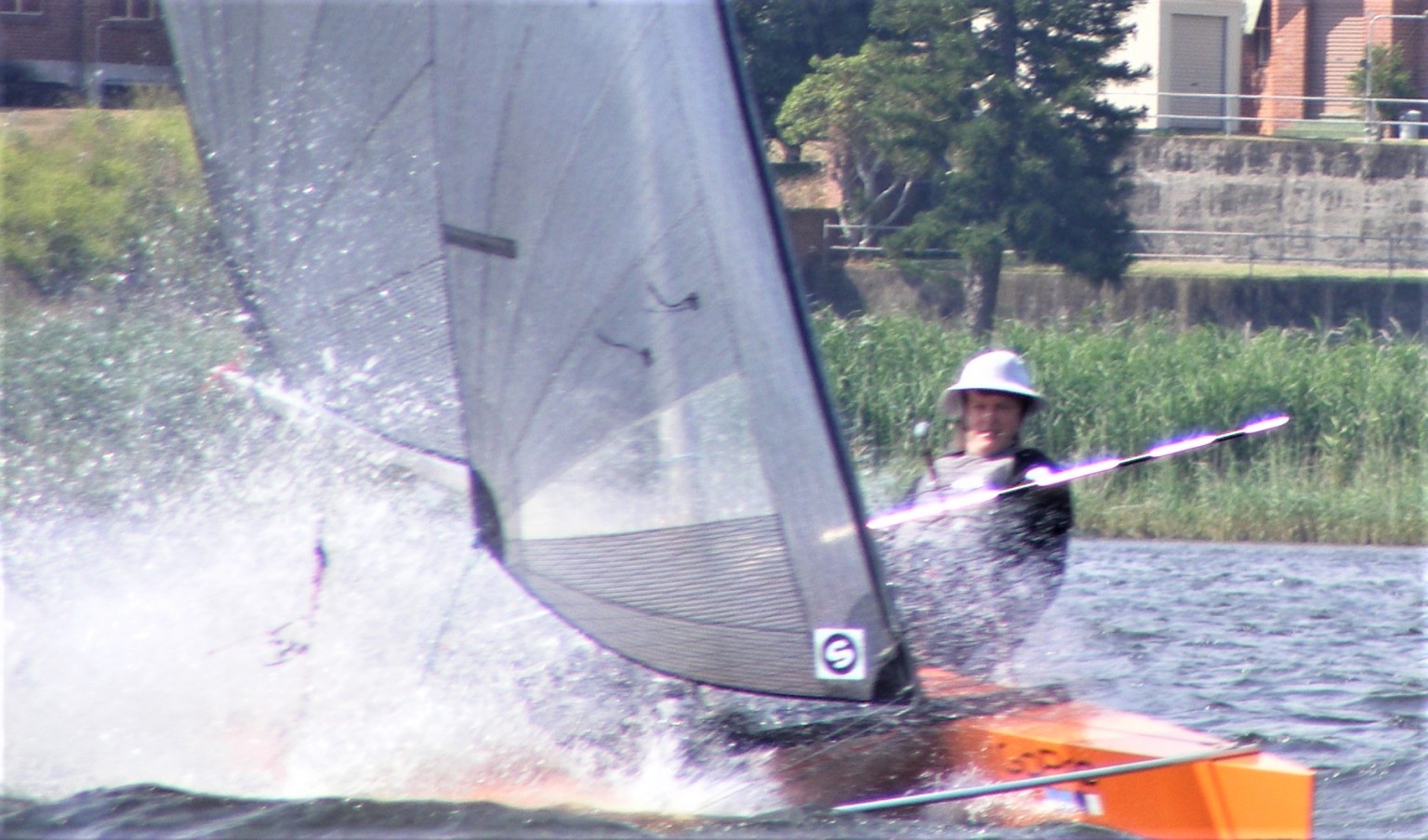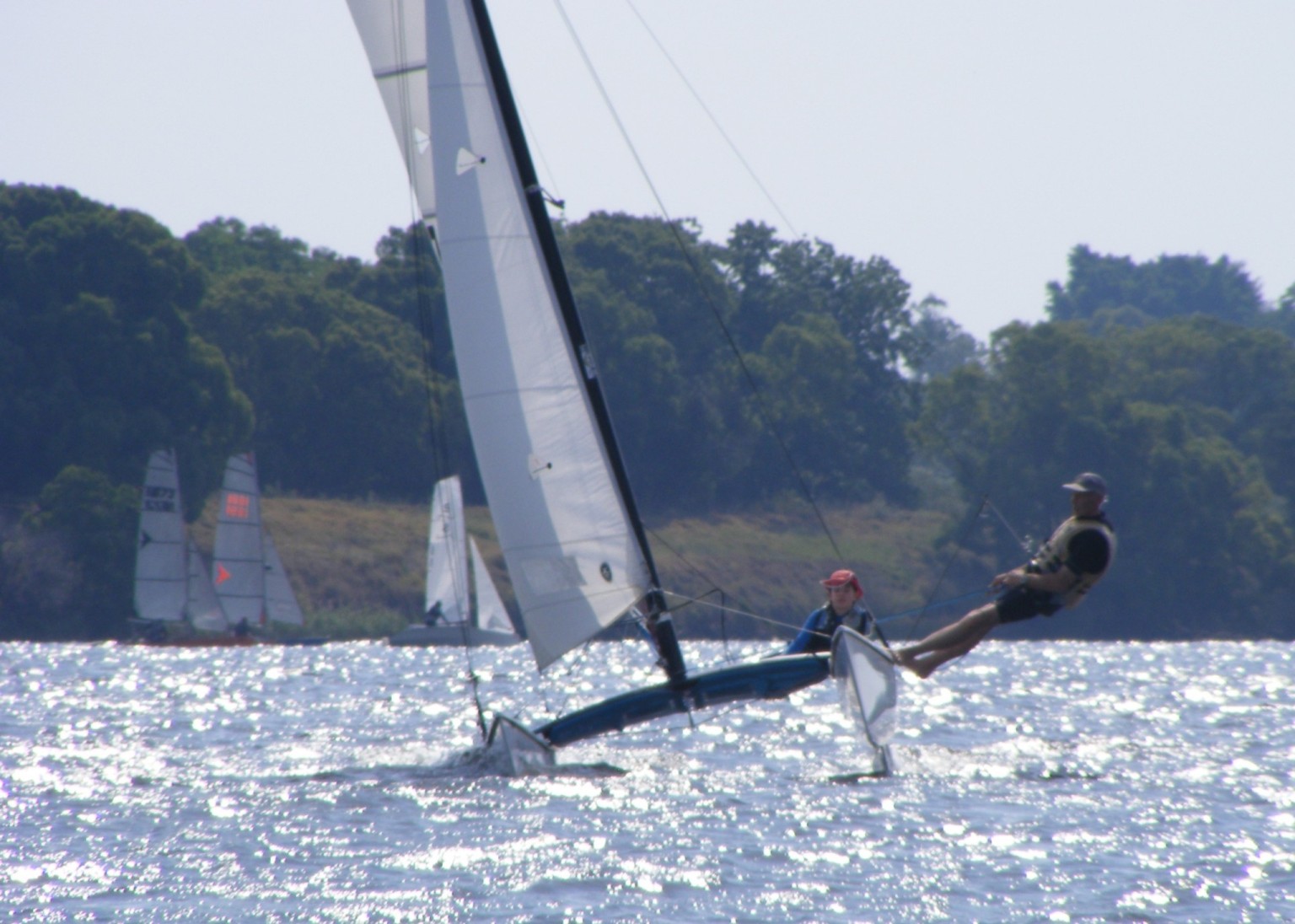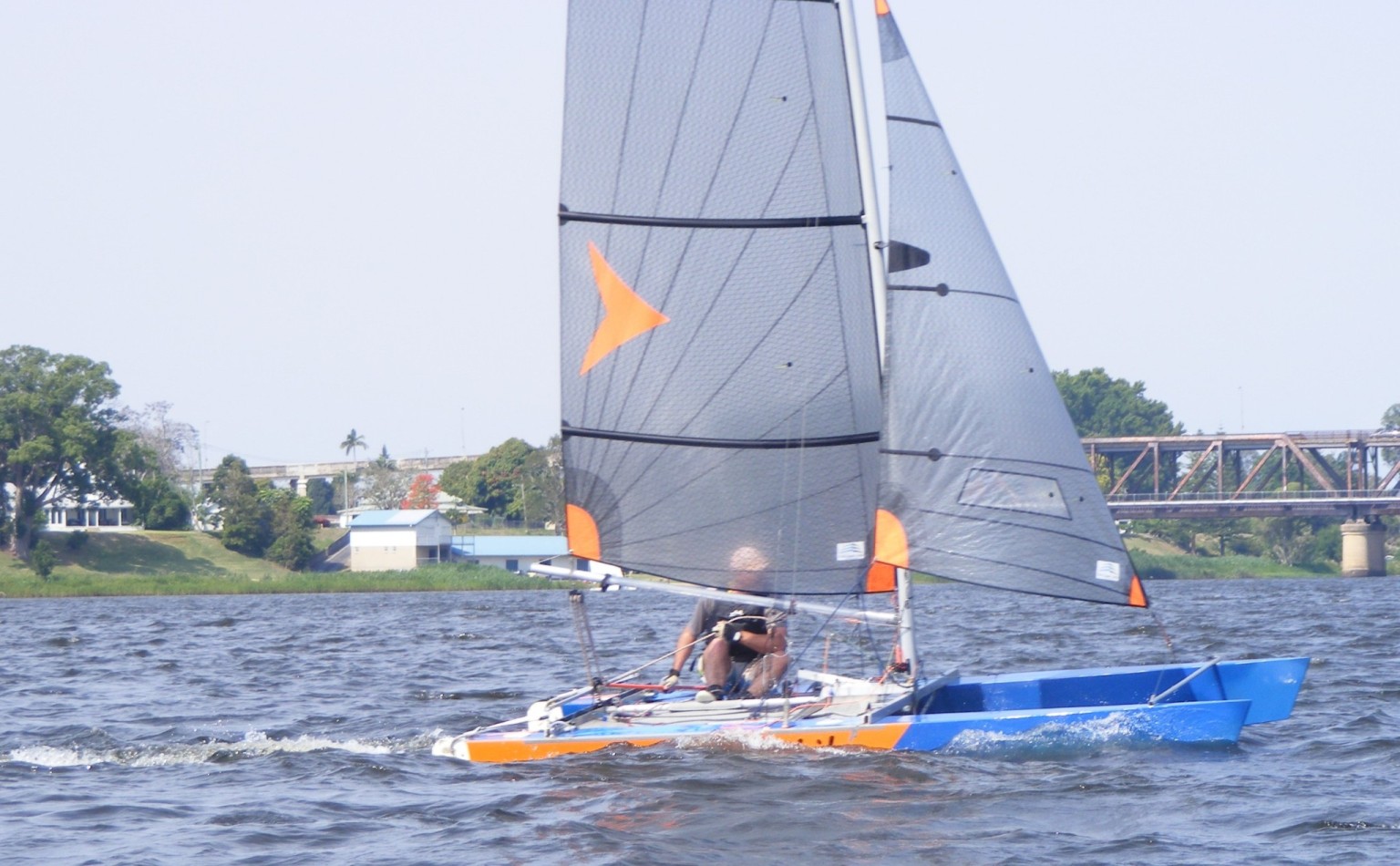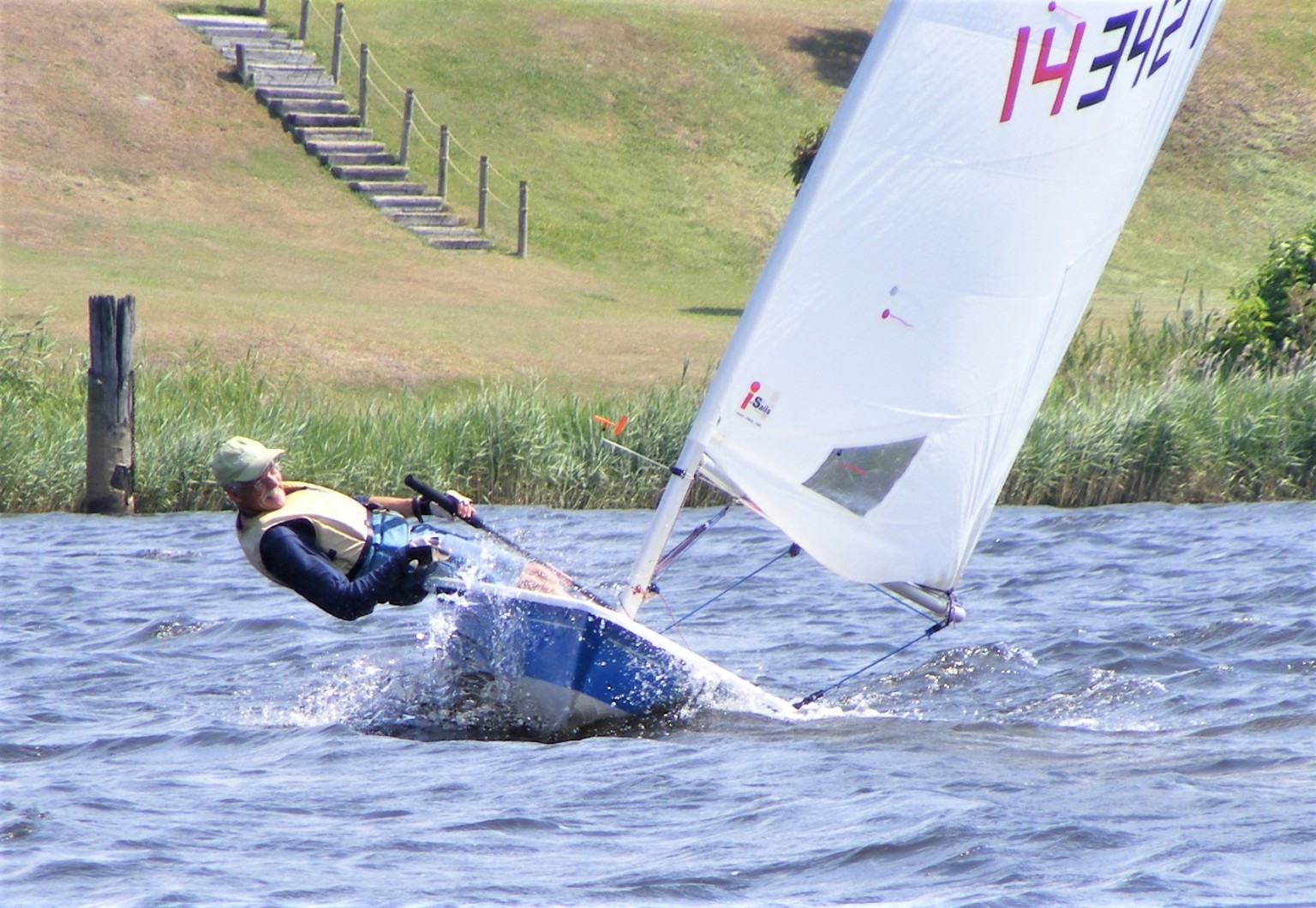 Click here for this week's photos. Thanks Will.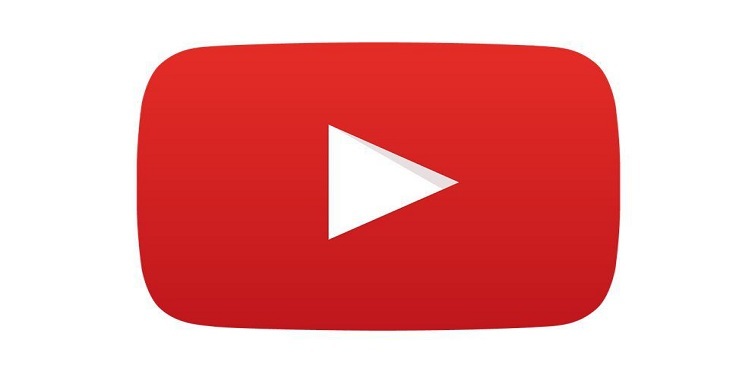 26th November 2016
Today's conditions were challenging. There was plenty of breeze and gusts of 18 knots were common. However it shifted constantly and fought against the outgoing tide creating a large and choppy swell.
Amazingly there were no capsizes or nosedives and all but one crew completed the course with some blistering times recorded. Catamarans dominated the race and outnumbered the mono's seven boats to three. This class is quickly becoming the mainstay of the club's fleet.
Neale Carter set the course and did a brilliant job. Everyone enjoyed the exhilarating reaches at the bottom end and if you were lucky enough it was possible to fetch the top mark with a single (albeit gruelling) tack from Susan Island. The gybe marks were particularly challenging and it seemed the breeze always peaked just as you were about to round. All the action was kept upriver with marks at the Convent, Services Club, Susan Island and just upstream from the bridge. The start and finish were both downwind. Cats were assigned four laps and mono's three – which worked out perfectly.
First and second places in the Catamaran Division were taken out by Arrows with Tony Rose and Phil Cavanagh enjoying a very competitive race. Phil had the edge off the wind only to be pegged back by Tony on the upwind legs. Sailing neck and neck, Phil found himself tangled with another boat at the final bottom mark and lost valuable time. However he quickly recovered and pushed Tony hard all the way to the finish before crossing the line just seconds behind his rival. Further back Neale Carter (Paper Tiger) and Greg Lee (Mosquito) also experienced some very tight racing and finished only 15 seconds apart.
Brian Linnett and Etham Jackson took out line honours in the monohull division. Sailing an MG and loving the breezy conditions the pair fully utilised their big spinnaker on the downwind legs and clocked up a substantial lead. Yardstick correction however relegated them to second with Peter Zietsch (Laser) ultimately taking out the prize and James Harrison coming in third.
See the results for more details.
A big thanks to Paul Smyth for driving the rescue boat, Will Pope for the photography and Bob Fish for officiating the race and running the canteen. Without our dedicated volunteers we wouldn't be able to enjoy our sport.
Next Saturday and Sunday (3rd and 4th Dec) is the Club's Xmas Regatta. There'll be no sailing at the Club itself and all racing will take place from Corcoran Park. First briefing is at 11.00 am. OTB cats and monos, junior classes and yachts are most welcome to compete. More details and NOR are above.
YS Results - 26/11/2016: (thanks Greg)

Recorded Time
Elapsed Time
YS
Cr'd Time
Class
Skipper
Crew
Sail No
Monohulls
3 laps
01:13:05
01:03:05
114
00:55:20
Laser
P Zietsch
143427
01:11:30
01:01:30
106
00:58:01
MG
B Linnett
E Jackson
294
01:14:10
01:04:10
108
00:59:25
NS14
J Harrison
1
Catamarans
4 laps
01:09:30
00:59:30
90
01:06:07
Arrow
T Rose
1691
01:10:05
01:00:05
90
01:06:46
Arrow
P Cavanagh
1678
01:19:20
01:09:20
93.5
01:14:09
Paper Tiger
N Carter
2967
01:19:05
01:09:05
83.5
01:22:44
Mosquito (cat rig)
G Lee
1759
01:14:25
01:04:25
77
01:23:39
Hobie 18
M Maginnity
M Woods
16547
01:36:25
01:26:25
93
01:32:55
Calypso 14A
L Denham
F Denham, O Denham
555
DNF
77
Hobie 18
B Holton
Z maginnity
16786
Note: Yarsticks updated to YVC 2015/16 figures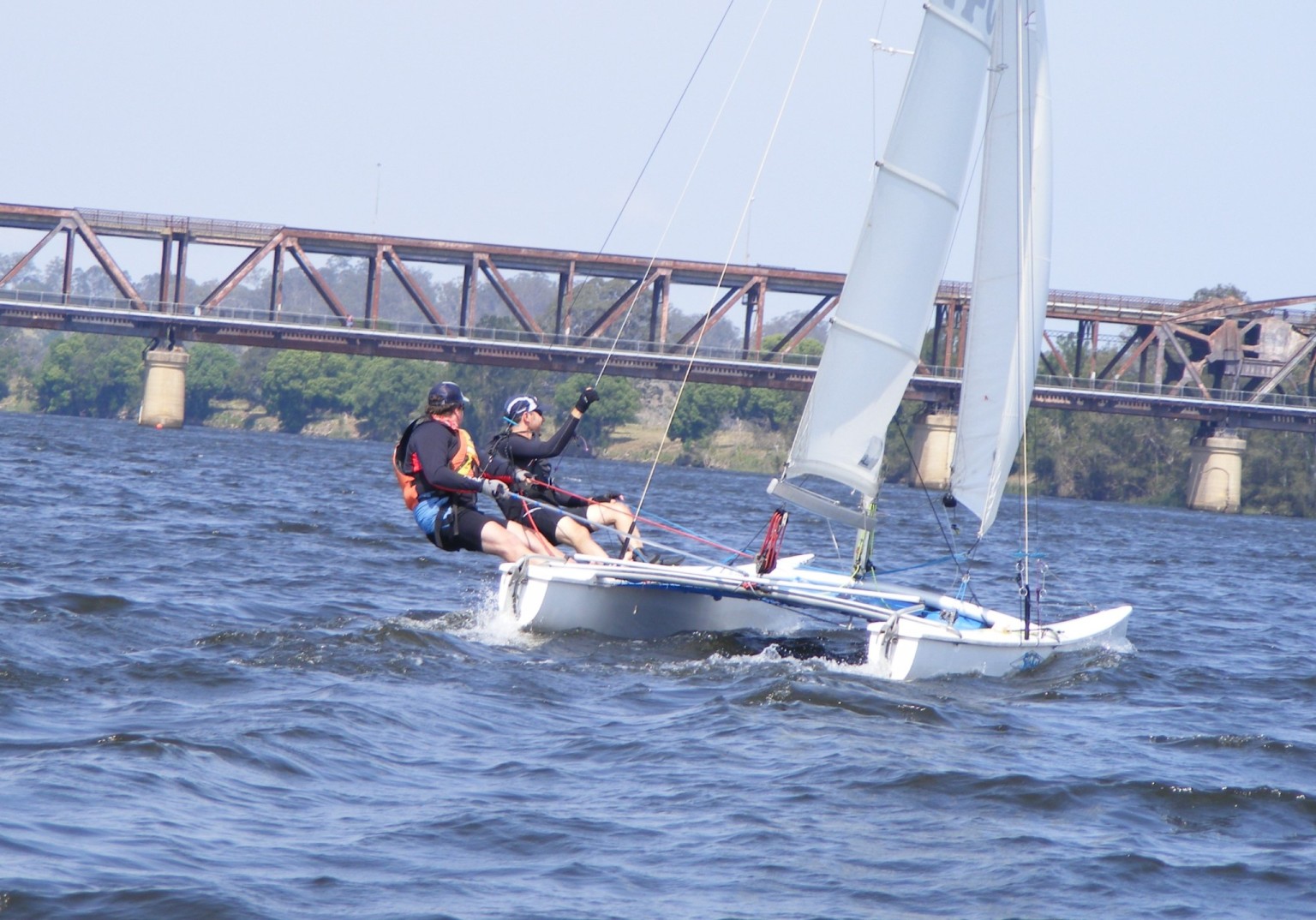 ____
2016-17 YA Memberships
Click here for your current YA (now Australian Sailing - AS) number.
Note - current YA membership is mandatory for all Club and Regatta events.
If you've paid your subs but aren't on the list please let Bob Fish or Peter Zietsch know so we can chase it up.

____
This year's sailing calendar is now ready and can be viewed or downloaded by clicking here.
Good news for members too. All fees and charges for the coming year have been frozen. This is great for everyone's budget and should help get even more boats out on the water each week.

Click here to download your membership form. Copies are also available from the canteen. Please get them back in to Bob Fish or Peter Zietsch as soon as possible to help the Club's finances. Fees can be also be paid directly into the Club's bank account. Details are on the form.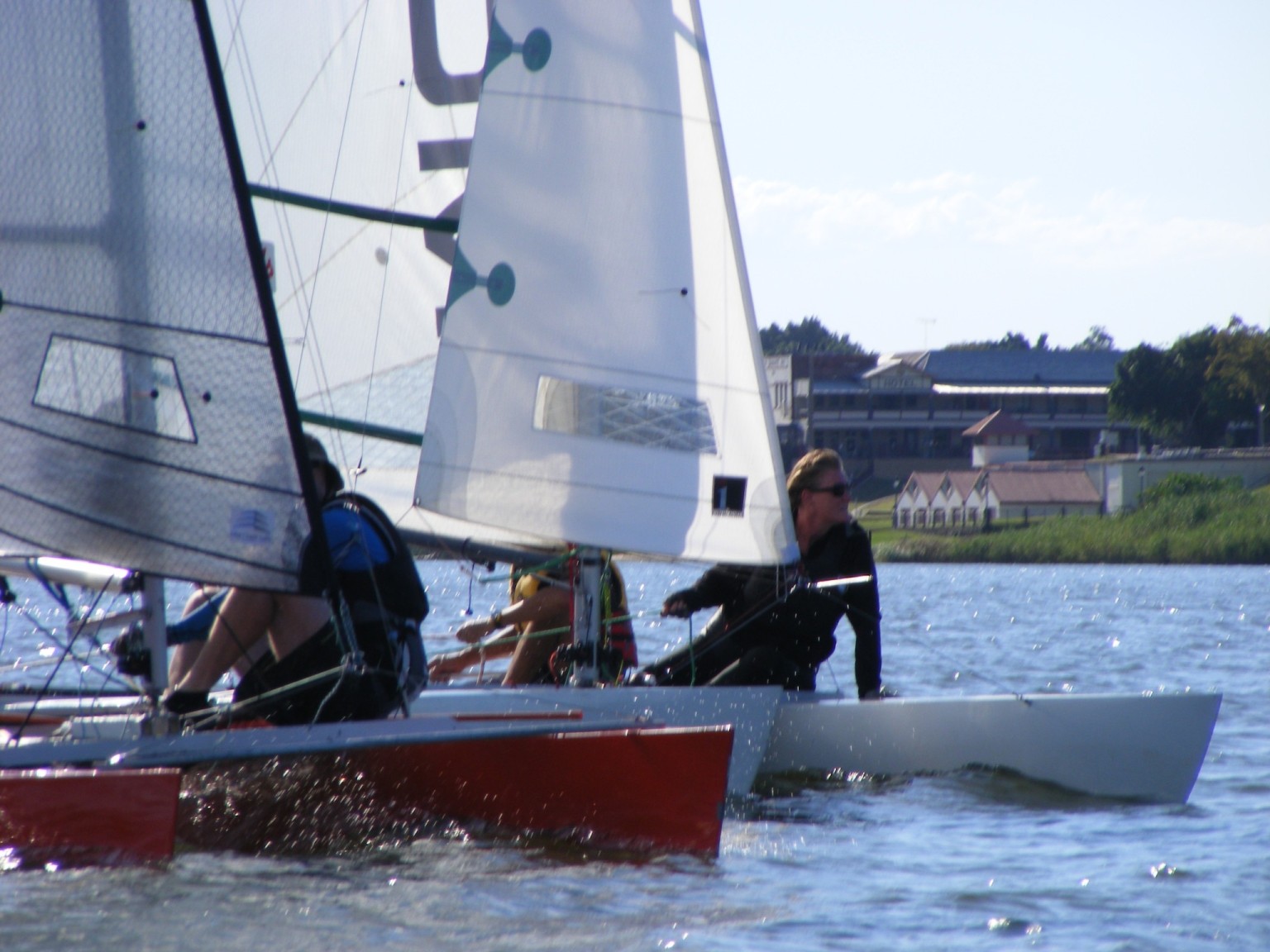 ____________________________
2015-16 Results (complete)
Pointscore (YS) Pointscore (HC) Championship
Learn to Sail Program
Watch here for details of next program.
Learn to Sail Program Information / Registration Form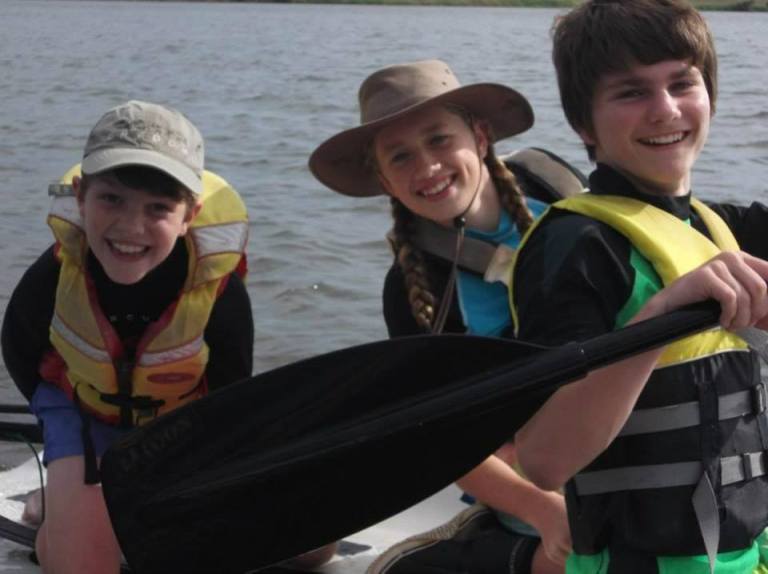 Having fun on the water during Week 1 of Learn to Sail Program.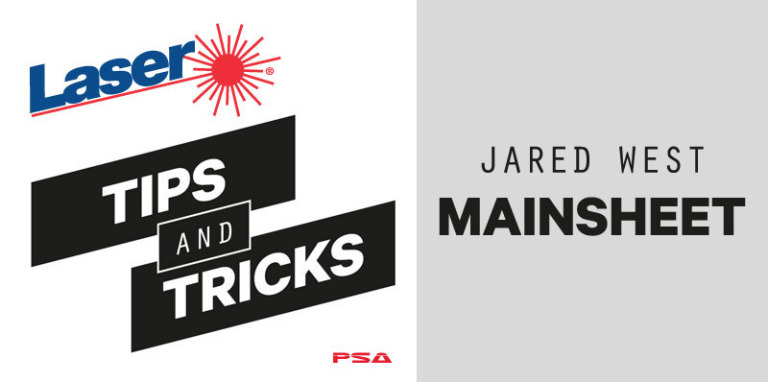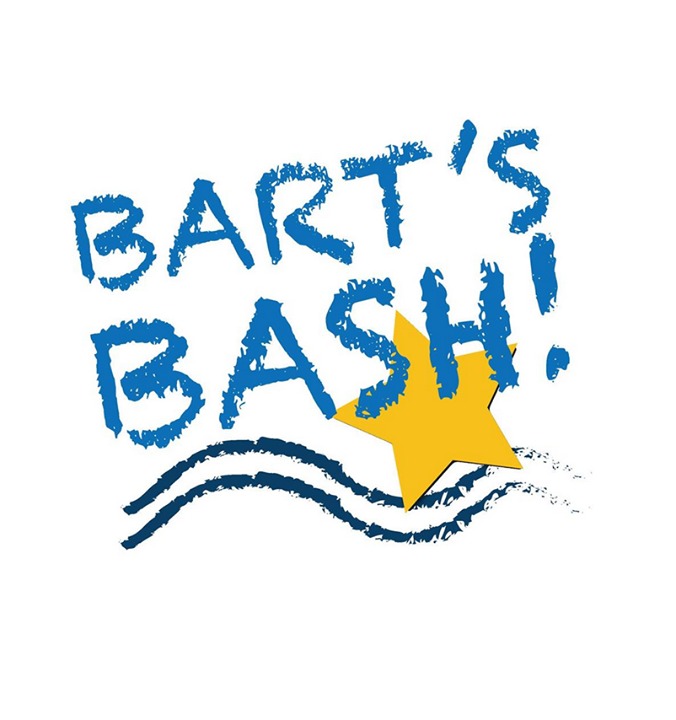 CRSC vs the World (DEX 18/09/2014)
Bart's Bash videos - by Max Rose
Bart's Bash Photos - Neale Carter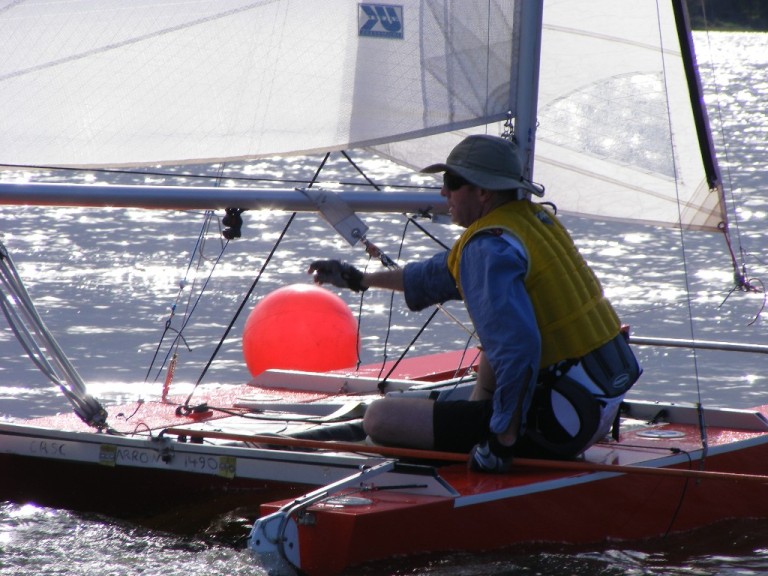 Photo by Dan Parkin